Charco del Palo
Beginning in the 1970s, a small seaside resort has developed here on the coast. Here, small means especially that there are no hotels, no tourist buses, but instead a place where you can have your peace and quiet to relax and regenerate.
There is a small supermarket in the center of town, as well as three restaurants, so that your physical well-being is well taken care of.
The nudist beach enables you to enjoy the sun and the sea without clothes. The people are usually naked on the beach while sunbathing. However most people are dressed when walking in the streets. One may only enter the supermarket and the restaurants dressed. Of course you can deal with this matter as you please within your own facility.
There are also many restaurants serving local fish specialities in the surrounding towns, for example, in Arrieta, which is 6 kilometers away. We therefore recommend that you get a rental car - so that you can truly discover the beauty of Lanzarote.
Lanzarote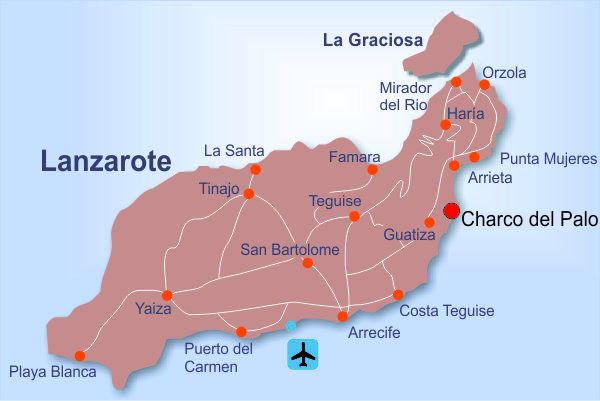 Charco del Palo with it's naturist beach, in the Northeast of Lanzarote
Photos